Meet Your Makers • Staff

ISABELLE CAULDINE
played by RACH
5th Yr. Prima Ballerina



SIMON THEODORE
played by BENBRYO
5th Yr. Theatre Geek



ISAAC CAULDINE
played by ASHLEIGH
5th Yr. Bandaid


January 2009
Weather


Snowy • Hi: 17º F • Lo: 4º F

Drivers should proceed with caution while driving on roads before they have been cleared. Up to two inches expected to fall overnight. For more information and updates on the weather, visit World News Broadcasting online.
DAISY, DAISY
Affiliates

GENERAL INFORMATION
[ SITE ALIAS ]
: Becky
[ THE FULL NAME ]
: Salim Mazhar Sadique
[ THE NICKNAMES ]
: None, other than Salim.
[ THE BIRTHDAY ]
: 17/8/95
[ THE AGE ]
: 13
[ THE GENDER ]
: Male
[ THE SEXUALITY ]
: Currently unknown- he hasn't really experimented, and refuses to pick a sexuality until then. It has a lot to do with his Father.
[ THE NATIONALITY ]
: Originally from Mumbai, India.
[ THE TALENT ]
: Theatre, Dancing and Singing, Bollywood style. So mainly theatre.
[ THE GRADE ]
: Third year.
[ FORM OF STUDENT ]
: As a foreign exchange student, he is partly funded by the Indian Government and is also partly paid for by his Father.
PERSONAL STUFF
[ THE INTERESTS ]
:
;;England
;; Watching Bollywood films
;; Manga (gleaned from his father's boyfriend)
;; Small quantities of alcohol
;; The colour green
;; Nature
;; India
;; Singing
;; Dancing
;; Acting
;; Speaking in garbled sentences of Indian and English (only his father seems to be able to work these out. Even his mother doesn't get it).
;; Rain
;; Blue eyes
;; Hair dye
;; Languages
;; Reading top class plays (in all languages he can read).
[ THE HOBBIES ]
:
;; Random walks
;; Singing
;; Learning to dance
;; Taking in nature
;; Making scrapbooks of different things he's found/photos he has taken.
[ THE DISLIKES ]
:
;; The cold
;; Being inside for too long
;; Being controlled by people
;; Intolerance (Especially racists/homophobes)
;; Cities
;; Insects
;; Aquariums
;; His Grandparents
;; Dance music
;; Horror movies
;; Kitchen knives
;; Unintelligent people
;; People shouting at him
;; Meat
;; Lies
[ THE FEARS ]
:
;; Clowns.
;; Being bullied.
;; Getting diseases.
;; Seeing anyone close to him ill.
;; Losing touch completely with his Father.
;; His Mother never being happy again.
;; Not proving himself worthy.
;; Being controlled permanently.
[ THE TRAITS ]
:
Tolerant, Family-orientated, Outgoing when he needs to be, Charming, Easy to manipulate, Wears his heart on his sleeve, Vegetarian, Does his own thing, Always thinking, Intelligent.
[ THE ULTIMATE GOAL ]
: His one aim in life is to become a famous Bollywood actor, though he'll settle for pleasing his parents.
[ THE PREVIOUS SUCCESSES ]
: He lived through two full years with his grandparents in India, which frankly, deserves a medal.
[ THE STRUGGLES ]
: His grandparents are overbearing and would love to control him. And let's not forget to mention the walking doormat his mother's become because of them. He can see why his father dislikes them, all of them, and tries to avoid contact with them. He never succeeds.
[ THE OTHER SCHOOL ]
: In the English school system, Salim succeeded, and started school there. He integrated himself, got good grades, was always the lead in school plays and was just about to start secondary school when he was moved to India. India was a different story, being so intense. He quickly lost marks, earning disapproval from the teachers, but still managed to shine in the auditions for the school plays. But they only took those with good grades. After whining to his father (who was in England and fending off a giggly, vaguely drunk guy at the other end of the phone), Salim was soon transferred to an arts school for a year. Being recognised as a talent on his own behalf, he was soon put into the foreign exchange programme.
LOOKS, LOCKS, AND LEGS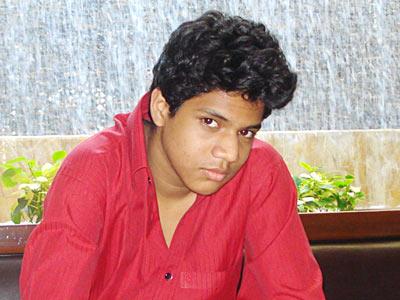 [ THE PLAYED-BY ]
: Gajiwala, Ashutosh Lobo
[ THE EYES ]
: The only word to describe the colour of these eyes would be black. It just looks a bit like endless pupil, but somehow, it doesn't look unnerving, like it possibly should. Instead they are warm, and seem familiar, without looking a lot like anyone else's. They are also quite small, though they don'y look overly out of place on his face, and the lids are quite heavy.
[ THE HAIR ]
: Currently, his hair is short. It is naturally black, and so ended up with many different colours in at some point when he was younger. Much to his mother's chagrin. His father didn't argue with it, just smiled and asked him who'd done it. The answer was invariably the same- Jade. His father's boyfriend. Salim is trying to decide whether or not to let his hair simply grow at the moment- he's thinking that it might be a good idea.
[ THE SMILE ]
: Smiling is second nature to Salim, whether it is the forced 'save me' smile that he gives his grandparents, to the bright and brilliant 'pick me' audition smile. Real smiles aren't hard to come by- but he prefers to pose through pouting. His most common, almost always present smile is his closed mouth one, put on out of politeness, but will always be at least vaguely real.
[ THE OTHER FACIAL STUFF ]
: Salim is very insecure about his nose. It's large and kind of… spreads. His face has also started building up a bit of puppy fat. His face also hints at the shape it will end up being, in the square-ish jaw and the general masculine shape.
[ THE BUILD ]
: He's slightly overweight if anything, but so far this has been no real problem to him. He always gets cast as the overweight, cute kid.
[ THE HEIGHT ]
: 5'5"-and still growing.
[ THE WEIGHT ]
: 154lbs
[ THE POSTURE ]
: As a general rule, he tends to slouch, and just wander around like that. However, when trying to impress, his back automatically goes straight as he pulls himself up to his full height.
[ THE CLOTHING ]
: He tends to wear loose clothes, from loose tops to baggy jeans (that he invariably needs belts with). And all in general bright colours, except for the jeans- which are in the obvious dark blue. He doesn't mess around with his wardrobe much really. It feels like too much hassle. That and it's much easier to wear whatever is there than carefully pair an outfit.
[ THE HYGIENE ]
: Sometimes he feels like a gay with his skin care routine, but so far it has proved to guard well against spots. He moisturises and exfoliates regularly, and showers everyday. Oh yes, and he often finds himself in possession of various posh skin care products that he'll never ever use. His father really does give into his boyfriends every whim. Even where it involves real expense.
FAMILY: HATE TO LOVE 'EM?
[ THE PARENTS ]
:
Mother: Shanti Sadique, 41, Housekeeper and carer for her parents. Salim has a very good relationship with Shanti, and loves his mother. He followed her from England to India (at the protests of his father), and went into the school system there. She was always strong and caring while he was growing up in England, and has been at her side for a while. He really wants her to be the woman she was when she lived in England.
Father: Amritan Sadique, 42, Real estate accountant. Despite being close to his father before leaving for India three years ago, Salim doesn't really have much to do with him now, mainly due to distance, but phone calls are scarce between the household where he lives and that of his father (and his father's long term boyfriend). Not that he dislikes contact with his father. Or disapproves of his father's choice of partner. It just hurts that his father couldn't have made his choice sooner and save his mother a whole lot of misery and pining (according to Ehnna, much as they loved each other, they never really
loved
each other). It's always strange to think that his father really is gay, but he accepted it long ago.
[ THE SIBLINGS ]
: Ehnna Sadique, older sister, 22. She is currently doing a 4 year university course on Law at a university in England, where she remained when Shanti left, preferring to follow in the footsteps of their father, except relationship-wise. He's very close to her and will often spend money on international calls just to speak to her and discuss what's been going on in their lives. Often she'll mention visits from their father and Jade, and Salim can't help but feeling so very jealous.
[ OTHER IMPORTANT RELATIONSHIPS ]
: Jade is Amritan's long term boyfriend, and always sounds excited if he picks up the phone. He's influenced Salim quite a bit, from the way he smiled devilishly as he slipped Salim alcohol, to the dedication to music that he's somewhat passed onto Salim. The blue eyes always look innocent, even when he quite clearly isn't (said alcohol business, along with one incident that ended up with his father and Jade slipping away for half the night), and Jade promised to teach Salim how to do it. Apparently it comes in handy sometimes. He's also the driving force behind Salim's love of dying his hair. Though there was that time when Jade accidentally dyed Salim's hair orange. That took a lot of explaining, and a lot of apologising to Shanti when Salim was returned. And after that, a lot of avoiding Shanti by Salim.
[ IMPORTANT ANCESTRY ]
: There is really nothing important about his blood. Descended entirely from Indians, he is quite proud of it.
Last edited by Salim Sadique on Wed Mar 18, 2009 10:10 pm; edited 2 times in total
Theatre Geek





Posts

: 12


Join date

: 2009-03-17



WELCOME TO HARRIMAN!
Welcome to Felicity J. Harriman School for the Arts! We're so happy to have you here at Felicity, and can't wait to start enjoying our artistic experience with you. Why don't you scurry on over and set up a
plot page
so we can start setting up relationships? Make sure you get a
cell phone
so that all your friends can contact you! After that, make sure you sign up for
some classes
so that you can shine at Harriman. Feel free to pm
Isabelle Cauldine
,
Isaac Cauldine
, or
Simon Theodore
with any of your questions.
_________________
izzabelle.mae.cauldine
Prima Ballerina





Posts

: 272


Join date

: 2008-09-28


Location

: vermont, playing in the snow!




---
Permissions in this forum:
You
cannot
reply to topics in this forum